Rodents & Small Mammals can make good pets in Missouri if they match your IifestyIe. Rodents are small mammals with four sharp teeth they use to eat, gnaw wood, and defend themselves. Several types of rodents are popular pets, such as chinchillas, hamsters, gerbils, and guinea pigs. Even rats are kept as pets! Rodents are often purchased as gifts for children. Sadly, however, many owners of rodent pets do not know how to care for them properly, and young children are often unprepared for the responsibility of having a pet. Families may not approach the purchase of a rodent with the same level of commitment they would have to a pet dog or cat. Mistakes can be made regarding the genders of a pair of rodents, resulting in a litter of unexpected babies. Some owners of rodents simply turn their pets loose when they get tired of them, which usually leads to the death of the animals, since they are not adapted to life in the wild. Free to good home ads can result in a rodent being used for snake food. There are some rodent rescue operations out there that can receive discarded pets, but these places tend to become overloaded due to so many people getting rid of their rodents. Please approach all decisions to get a pet with a long-term commitment, and pursue adoption rather than buying a rodent from a pet store.

Rescue Me! - HeIpingAnimaIs in Need.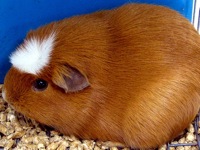 lnteresting Rodents & Small Mammal Trivia
Low-Cost Missouri Spay & Neuter Clinics

    Rodents have front teeth that never stop growing and have to be worn down constantly by gnawing. Rodents are one of only a few types of placental mammals native to Australia. Rodents make up the order of mammals with the largest number of species in the world. Weasels are not rodents. Rabbits are not rodents.

Related pages:

Rodents & Small Mammal Rescue

Missouri Animal Rescue

(Sorted by Zip Code.)

St Louis County - Maryland Heights 63043
Humane Society of Missouri: Westport Area Vet Med Center 314-951-1590

Franklin County - Union 63084
Franklin County Humane Society 636-583-4300

St Louis County - St. Louis 63104
St. Louis Pet Clinic 314-773-6400

St Louis County - St. Louis, MO 63110
Pound Pals--Nooterville 314-776-SPAY

St Louis County - St Louis, Missouri 63110
Humane Society of Missouri 314-951-1534

St Louis County - St. Louis 63126
Metro Animal Resource Services, Inc 314-995-2655

St Charles County - St. Louis 63126
Operation Sterile Feral 314-995-9266

St. Louis County - St. Louis, Missouri 63127
Operation SPOT 314-995-8678

Cape Girardeau County - Cape Girardeau, Missouri 63701
The Humane Society of SEMO 573-334-5837

Jackson County - Kansas City 64114
Animal Medical Center & Associates 816-333-9000

Jackson County - Kansas City 64133
Spay & Neuter Kansas City 816-353-0940

Jackson County - Raytown 64133
PAWS, Inc 816-252-2680

Jackson County - Raytown 64133
STOPP (Stop The Over Population of Pets) 816-313-7729

Boone County - Columbia, MO 65202
Central Missouri Humane Society 573-443-3893

Phelps County - Rolla, Missouri 65402
Rolla Friends of the Animals 573-364-2428

Lawrence County - Aurora 65605
Castaway Animal Rescue Effort (CARE) 417-875-6565

Greene County - Springfield 65814
SNAP 417-823-7627

If you find any of the above spay/neuter information is incorrect,
or if you know another low-cost clinic to recommend, please
call Rescue Me! at 1-800-800-2099 with this information.